You're finally ready for a change so you decide to try the diet your friend has been raving about. Except you're not sure how it works, so you get lost in Google only to leave more confused. Oh wait, your fave food blogger started a new diet - maybe you should too! A couple of recipes later, you're still confused. You are stuck between wanting to see a real change in your body and trying to figure out what will actually work.
You've tried one too many diets, and you don't know if there is any other way.
BUT WAIT! what if I told you that you don't need to diet?!
What if I told you, you can eat food you enjoy (and hey let's be real that sometimes includes dessert), and learn how to eat healthy for life while achieving your goals?
My approach has allowed women to enjoy their food, stay motivated and be committed to a healthy lifestyle!
This means that you can achieve your health goals while enjoying delicious food.
In the past, you may have gotten excited to finally make a change, so you start with the latest diet you hear of. The only problem is, you can only stick to it for a few days, maybe even a few weeks (if you're lucky!). By the end of it, you feel de-motivated and a "healthy lifestyle" feels impossible to achieve.
The problem with most of these diets is that they are not sustainable and they do not give you the tools to make long term changes.
And that's what I want to offer you! A change!
No more quick schemes that don't work! No more running in circles! It's time for you to take charge and have the rights tools to make a difference long term!
If you are ready to finally say goodbye to fad-diets and make a change for life, then The Muslimah Transformation Program is for you!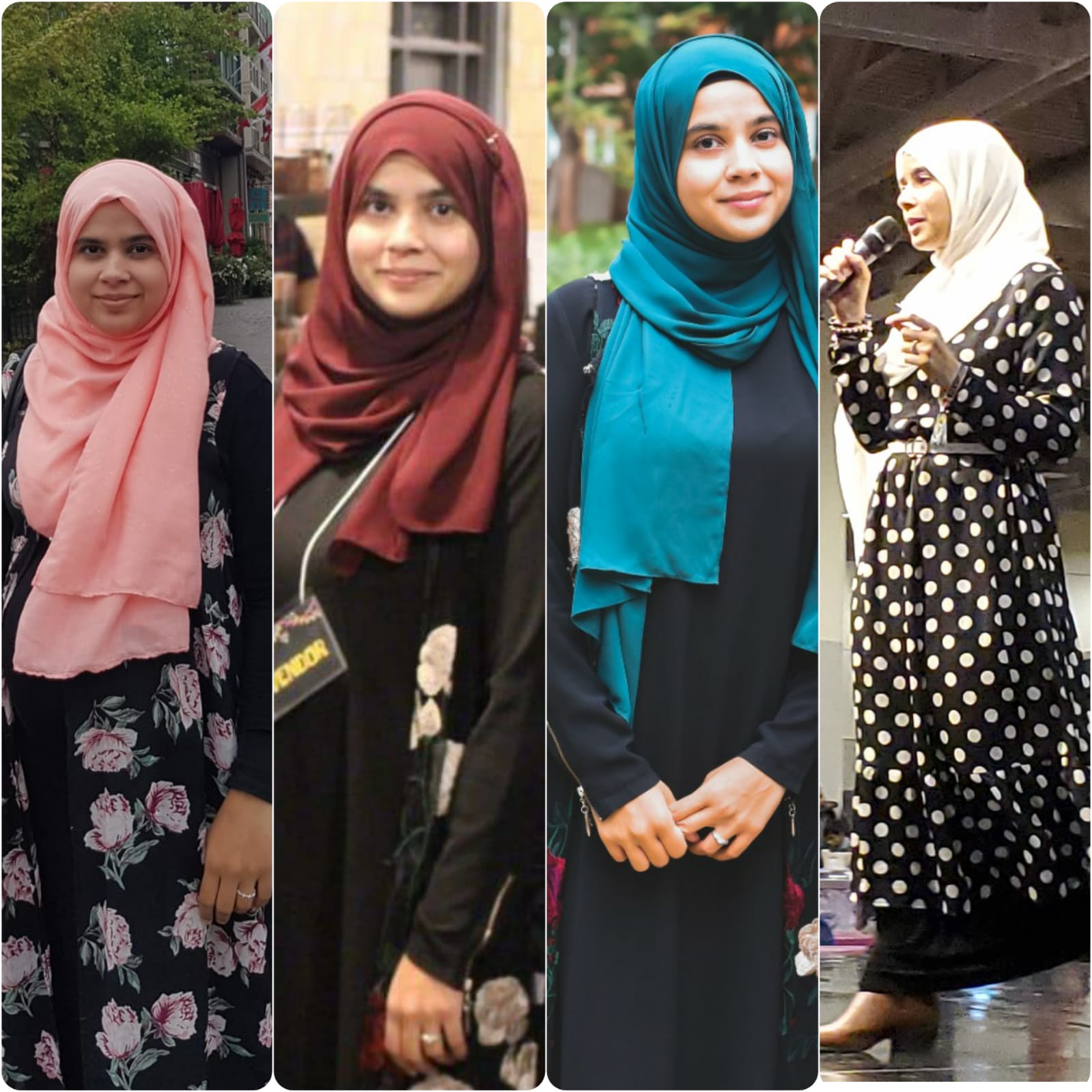 (Yep - that's me! Can't forget the moment I finally felt confident enough to wear a skinny belt around my waist! Not only have I helped other women achieve their goal weights, I've also gone through my own transformation without ever feeling like I was on a diet!)
The Muslimah Transformation Program is an 8-week online program that focuses on holistic health to help you transform your lifestyle!
This program is for:
women who are feeling overwhelmed with what "diet" they should follow to see results
women who are sick of going from diet to diet
women juggling a busy schedule, with not enough hours in the day to think about their health
women who want a change for life, not just a quick fix, leading to frustration again and again
women that want to eat real food and see real results, without spending hundreds of dollars on powders, pills, and supplements
Here's the transformation you can expect to see:
Eat healthier without feeling like you are on a diet

Weight loss

Increased energy levels

Improved mental health and stress

Improved strength, mobility, and physique

Learn to meal prep, so you always have healthy meals and snacks on hand

Better management of your schedule, regardless of how busy you are
Joining the Muslimah Transformation Program entails more than just a meal plan though!
Here's what you get:
An 8 week meal plan - a comprehensive meal plan + vegetarian and vegan swaps for the meal plan so you can try going vegetarian/vegan OR if you already are, these will be nutritionally balanced swap.
An 8 week exercise program - you will get access to an app to complete weekly at-home workouts and/or gym workouts developed by a Personal Trainer
Access to a support group - we will all be starting and finishing at the same time, you will not only have the support from other ladies but also me! No more feeling alone, frustrated, and turning to unreliable sources.
Weekly check-ins - the difference between someone who starts eating healthy and keeps eating healthy is accountability. These weekly check-ins will help you stay on track over the 8-weeks and help you overcome any obstacles you may be facing.
*NEW* Biweekly 1 on 1 coaching calls with me - I will be here to guide and support you while you go through the program as well as answer questions to simplify the transformation process for you!
BONUS: Lifetime access to all of the resources (the coaching calls + exercise program will end after 8 weeks, but you will be able to access the rest of the resources forever!)

This program is valued at over $2000, but you can join for only $397 USD!
Success Stories from Women Like You
Sehar and her husband changed their lifestyle:
"I got to know about Nazima through a friend. My husband was actually the person who heard about her and encouraged me to contact her. I was very very skeptical and it took me many weeks and a lot of reminders from my husband to finally make the call. When I first spoke to Nazima, I was a bit taken aback. She was like a breath of fresh air. If there was anyone who could help lose weight it was her. She was lovely to talk to and very confident she could help me.
Just a bit of background on my weight issues. I was never a size zero or even close but after my two back to back pregnancies, I had gained quite a bit of weight. Apart from that, I had lost all hope that I could lose even a few pounds. I was convinced that this weight is here to stay and this is my life now. However, Nazima helped me recognize my own potential and through her meal plans and one on one support we were able to see progress.
What Nazima offers is not a quick fix weight loss fad diet. It's a complete lifestyle transformation. It takes time and effort. All the meals we prepare are thoughtfully put together. After some practice, I learned to plan faster and prepare meals more efficiently. Nazima educated me on proper nutrition and portion sizes. After working with Nazima for 3 months or so I was able to shed quite a bit of weight. It's all about continuing to make healthy choices.
Up to date, both my husband and I have lost 30+ pound and too many inches to count. Taking a chance with Nazima was one of the best decisions I have made. We are continuing to lose weight with all her meals, tips and pointers. I am grateful to Allah to have found her. she helped me and my husband get our lives back on track and gave us hope." -Sehar
Sajidah was done Googling diets:
"I had my third baby three months ago and I've gained a lot of weight ever since my first pregnancy I just really wanted to lose weight but those google diets that I use to try just wouldn't last longer than a week. So I followed Nazima's meal plan and it's honestly been the best decision ever. The food is healthier but sooo tasty! Nazima has the best recipes, they're full of flavour and aren't bland. She includes great tips and shows you how to meal plan (which is literally a life saver with three kids). I lost 10 pounds the first month which is crazy! Because I've never lost more than two pounds with other diets that I attempted. The meal plan doesn't have a diet approach. You're still having all your meals and snacks too! I actually ate more when I was on the meal plan compared to before, but I'm eating right. I'm eating what my body needs not just junk. I don't even want to start on how much this has increased my energy levels! And I need all the energy possible with having three kids back to back! And best part is, that following this did not affect my breast milk at all! I actually even feel like my milk has increased! Thank you so much!!!! By the way this meal plan disciplined me with my food choices, I believe I will reach my goal sooner than I thought." -Sajidah
Maymunah didn't really cook before but lost inches in all the right places:
"I followed Nazima's meal plan and I was impressed with the recipes. I don't really cook or have a passion for cooking but I enjoyed making the meals from the plan. They are quick and easy and most importantly delicious! The best thing about eating healthy along with exercise was the results!! Just after 4 weeks I lost over 6 inches from the right places!! I feel blessed to have come across Nazima, she has certainly given me the push I needed along with the knowledge required to keep myself healthier and happier!" -Maymunah

Zainab struggled with a healthy lifestyle for several years:
"I have completed Nazima's 4 week meal plan and what I love most about the plan is how easy it is to follow! It has helped me shed 10 pounds in 1 month along with several inches off my body. I've been struggling with nutrition and a healthy lifestyle for several years especially with being a mom of 2 alhumdulilah very active boys plus working part time. I also received additional one on one support from Nazima and with her incredible support the entire way I've managed to gain a better understanding of food and fitness and how important it is in my daily routine. I've noticed how my salaah has improved, my sujood have become easier, and over all I feel like I have much more energy alhumdulilah. Thank you and jazakallah so much Nazima, it's been truly a wonderful experience completing this program!"
Frequently Asked Questions
When does the program start and finish?
The 8-week program starts on January 6th and ends on February 29th. The program doors will close to everyone by January 3rd at midnight. All members will then receive access to Week 1 meal plan, grocery lists, and exercise program. You can use Friday-Sunday to prepare so we can all start Week 1 together on January 6th inshallah!
How long do I have access to the program?
You will have LIFETIME access to the program, with the exception of the coaching calls and the exercise program. You will receive access to the exercises through an app, which will only be available for 8 weeks.
What if I am unhappy with the program?
We would never want you to be unhappy! If you are unsatisfied with your purchase, contact us in the first 30 days and we will give you a full refund.
Can I lose weight following this program?
Yes! I don't like to focus on weight loss as the sole purpose of eating healthy, but by following a healthy lifestyle, you will naturally reach your optimal weight. If weight loss is your goal, I will also ask you to measure your bust, waist, and hips so that we can track inches lost, as this is a better indicator of progress than just the number on the scale.
What type of recipes are in the meal plan?
The recipes I develop are a mix of cuisines influenced by a variety of factors such as culture, favourite flavours, and health benefits. You can also visit my blog (www.nutritionbynazima.com) to get an idea of the types of recipes I develop. This meal plan has been followed by many women in the past - and they have loved the recipes!
Can I join later on?
Once the program doors are closed, no new members will be able to join. This is to allow everyone to start and finish the 8-week program together. There will be limited spots available so that I can support every single member via 1 on 1 coaching calls. The next time I offer this program again will be in September 2020!
Aamna was able to prep for her and her husband:
"Before this program, I was struggling with what to eat and how to organize meal prepping/planning with a husband who wants to gain weight (where I wanted to lose weight). Overall, I learned a lot and will be implementing the tips and strategies to experiment with the recipes and nutritional guidelines. Nazima, answered all my questions in a timely manner and I genuinely felt like she wants us all to eat better and reach our goals. I would recommend this program to those that need a good foundation for meal planning and prepping. Everything is provided to you (recipes, schedule, grocery lists etc) to make things easy. It couldn't be easier to get and stay on track!"
- Aamna, age 39
Ailya struggled with yo-yo dieting:
"I struggle with yo-yo dieting. Nazima's Muslimah Transformation Program is about living a balanced lifestyle and she teaches how to plan out meals/ what food groups to include in every meal. The program has taught me to eat balanced healthy meals without feeling deprived! Nazima is also incredibly kind & supportive and always open to questions! I highly recommend this program!"
- Ailya, 26

Rabia saw a difference in only 4 weeks:
"Before I started the program, I was eating unhealthy foods and not exercising at all. The program helped me recognize the unhealthy choices I was making and about what healthy options I could choose. I was able to cut down on sugar and processed food as well learn how to control my portions. It also taught me basics of meal planning, which requires practice but gets easier as you do it on a regular basis. Exercising is also key to a healthy lifestyle but most people don't make time for it, and so the program helped me incorporate that in my routine. After only four weeks, I feel better about the food choices I am making and I have been able to shed some weight as well :)"
- Rabia, 33
Maybe by now you're thinking, that's great that these women saw a change, but you're different and nothing has worked for you in the past! Here is Ruby's story:
"Working with Nazima to change my diet has been a life-altering process, in the best possible way! Nazima takes you through the process to eat healthier and sustain it, step by step. I thought maybe the food would be bland or just not something I'd eat - I apparently cannot live with salads for lunch and at least some sort of veggies at every meal now. I used to have what you would call a typical desi diet - salan roti or salan chawal for most every meal. (And I didn't even really like desi food! I just ate it out of habit and because that's what my mom made.) With Nazima's help, I not only gained the confidence to start cooking and making my own meals, but I understood the foundations of healthy eating. I lost 15 lbs in the process! 15! It may not seem like a lot to some, but for someone who could not lose weight to save her life, that was an astonishing number. And many months later, I've maintained it alhumdulillah."
- Ruby, age 30
After touching base with Ruby 5 month later, she was still going strong with her meal prepping and following all my tips and strategies as her new "regular" lifestyle! Yep - no crash dieting here!